Buyers
Buy a business simply and efficiently, the Foundy way.
Browse and compare screened opportunities in one place.
View key performance metrics on all opportunities.
Find scalable, high-potential companies to buy.
Why risk starting from scratch?
Starting your own company can be challenging and full of risk. Finding attractive acquisition opportunities can be time-consuming and laborious.

Now, with Foundy, whether you're a first-time buyer or a corporate development team, you can buy up to 100% equity in companies simply and easily.
Find your next opportunity
Find your next opportunity
Browse our rapidly growing seller community and discover high-potential businesses. Wave goodbye to inefficient processes and exorbitant costs. Say hello to Foundy — your one-stop shop for all your future acquisition opportunities.
Find companies you can scale to provide you with a lucrative new income stream. You might even build the next unicorn!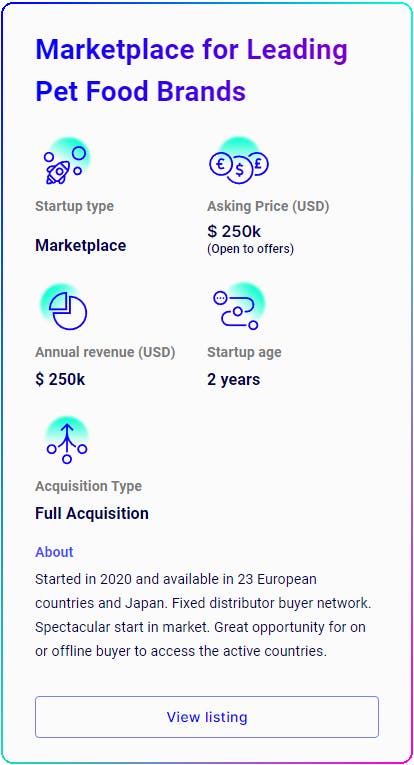 With Foundy, you can
Filter companies by your unique criteria, including budget, to find your perfect match.
Connect with founders via Foundy's instant message facility to undertake efficient due diligence.
Access M&A Advisors, document templates and other digital resources for an smoother acquisition experience.
Access Key Metrics. Instantly.
Easily compare the health and performance metrics of different acquisition opportunities to find your perfect match.
And soon... Gain unparalleled access to company data via Foundy's third-party API integrations, providing access to live performance metrics.
Undertake more efficient due diligence and make better-informed decisions with visibility on:
Startup Type
Asking Price
Annual Revenue
Startup Age
Acquisition Type